Customers Gallery
Some Pictures Customers have sent in of their finished projects using our overlays. If you have a project that used our product we would be happy to post a picture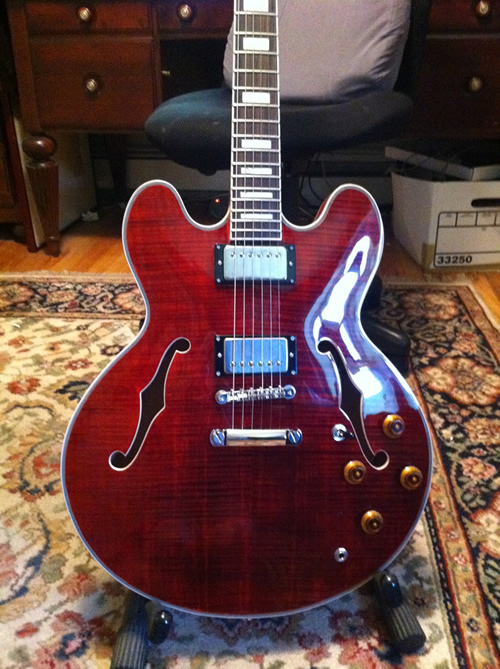 L. Lenoff. Bronx. NY ES335 Build using our flametop kit.
A superb 1997 Gibson Les Paul Custom repair from Mike Lankford Evansville, IN using the LP Custom overlay.
A Great Job See the Full Picture Set HERE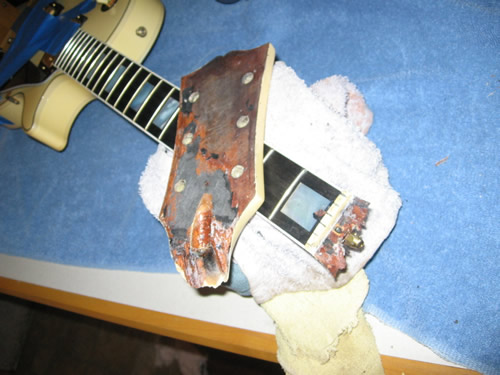 Mike Lankford from Evansville, IN."Headstock snapped at nut. It was one of the worst and most difficult headstock repairs I have ever done. Had to remove all the old epoxy and headstock overlay, installed splints in neck and refinished the neck. Then replaced the overlay with one of yours and detailed the neck. Re yellowed the binding on the fret board and then removed the yellowing from the dots and cleared and polished the whole thing.Your overlay saved a great guitar, thank you for a quality product.
Mike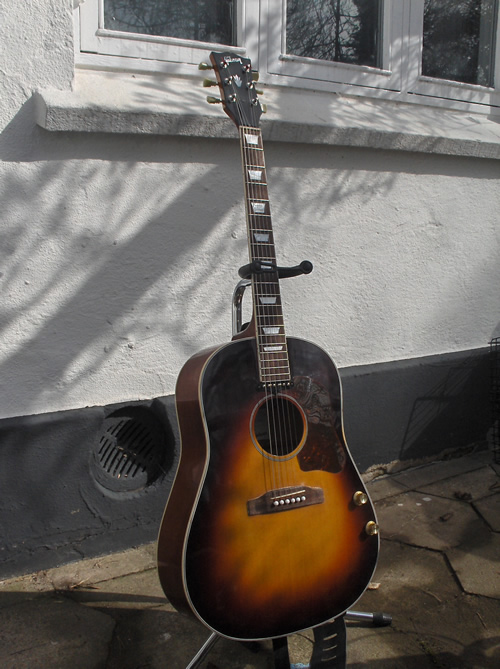 Uffe L.K..... Denmark. Late 60's Gibson J160E complete refurb and refinish using SG large 70's overlay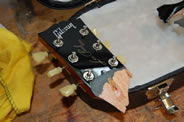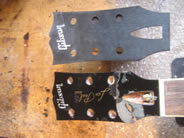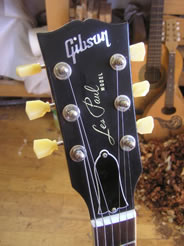 Benoit de Bretagne - a Luthier from France - repair/restoration Gibson Les Paul Traditional 2010 using an LP Standard overlay and Les Paul Model gold script decal.
This is a superb repair - See all pictures here.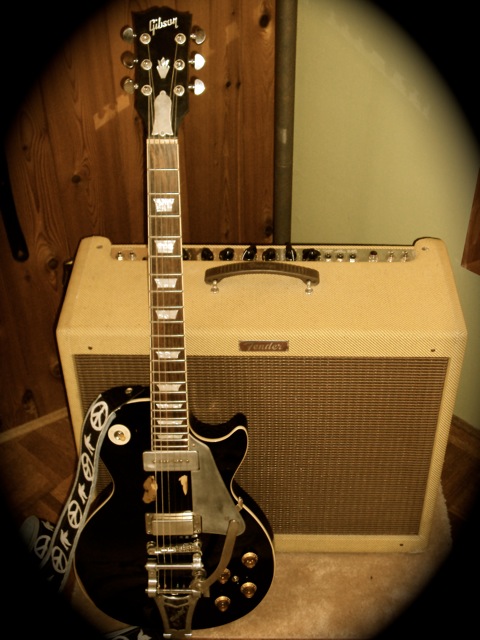 h
W.Schopp BC Canada - Replica Niel Young's Old Black. Epi headstock remodel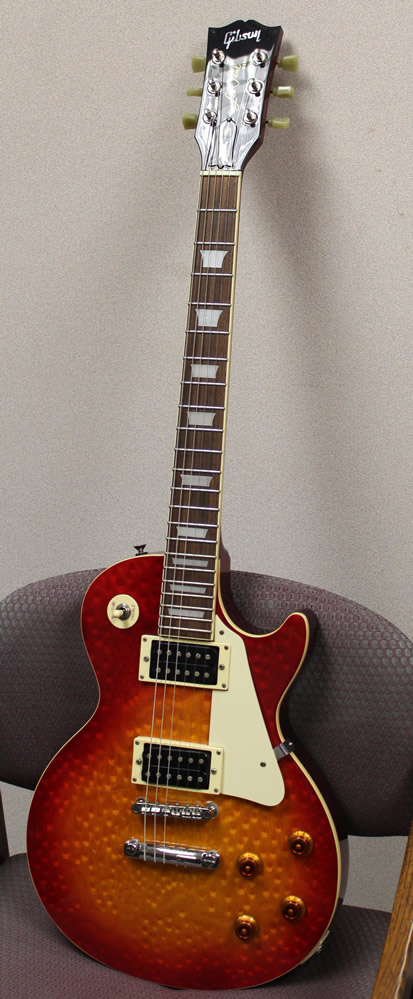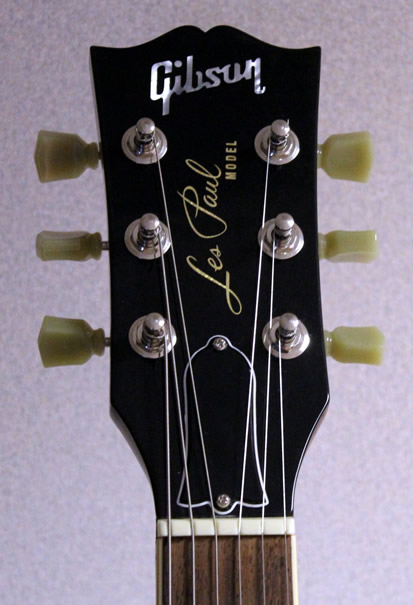 A Great Looking 1995 Epi. Headstock Remodel by W. Bernhardt, MI. US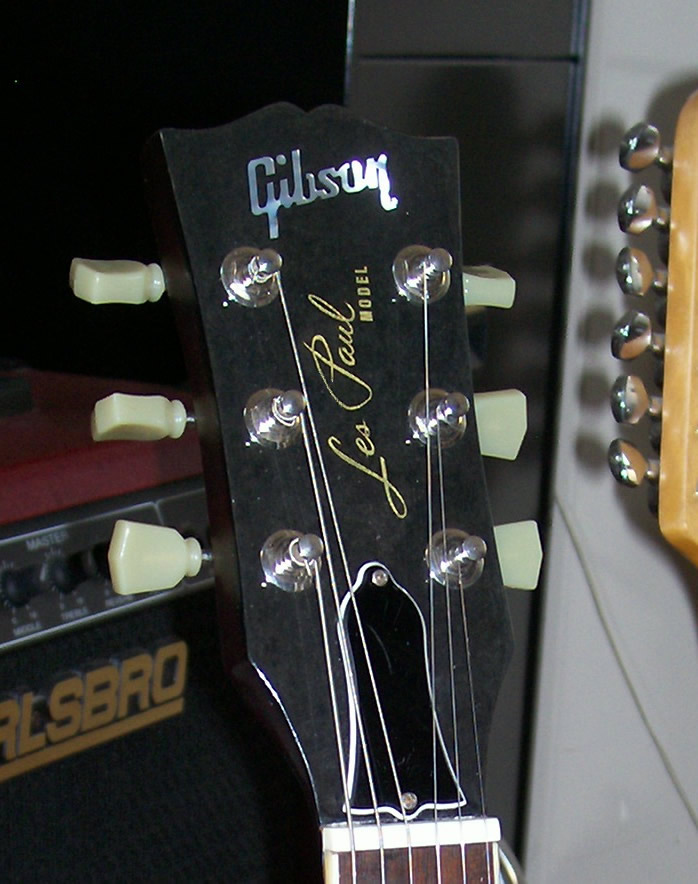 Remodelled Epi Headstock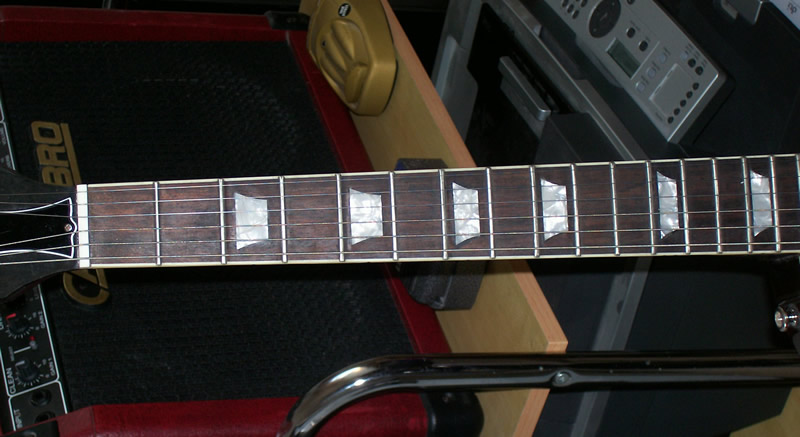 Epi plastic inlays replaced with our Historic Cellulose Nitrate inlays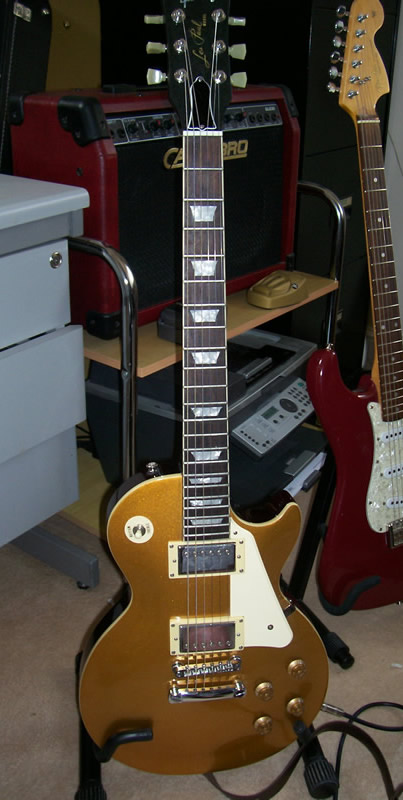 M C. UK.-
2005 Epiphone Les Paul Goldtop, headstock conversion using an LP 59 Historic Overlay.
Croxguitars.com do not condone the use of these overlays on any other make of guitar other than Gibson.®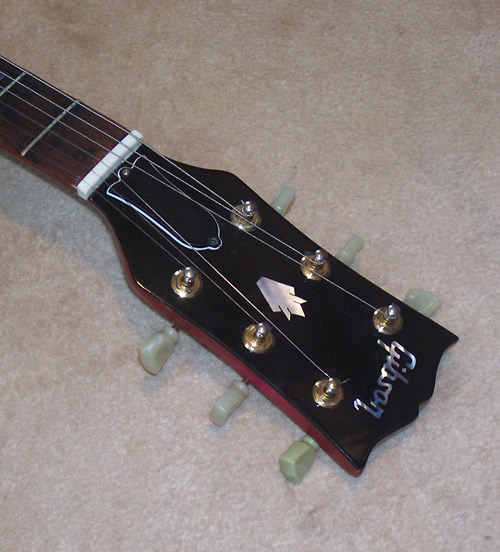 M C.UK - -MIJ SG with Large 70's Overlay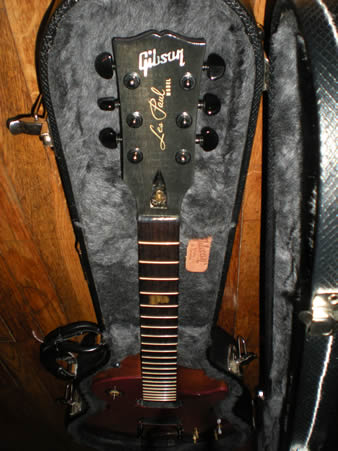 J. Zavala, Wichita Falls TX. Gibson Les Paul Menace - LP Standard overlay and Les Paul Model gold script decal.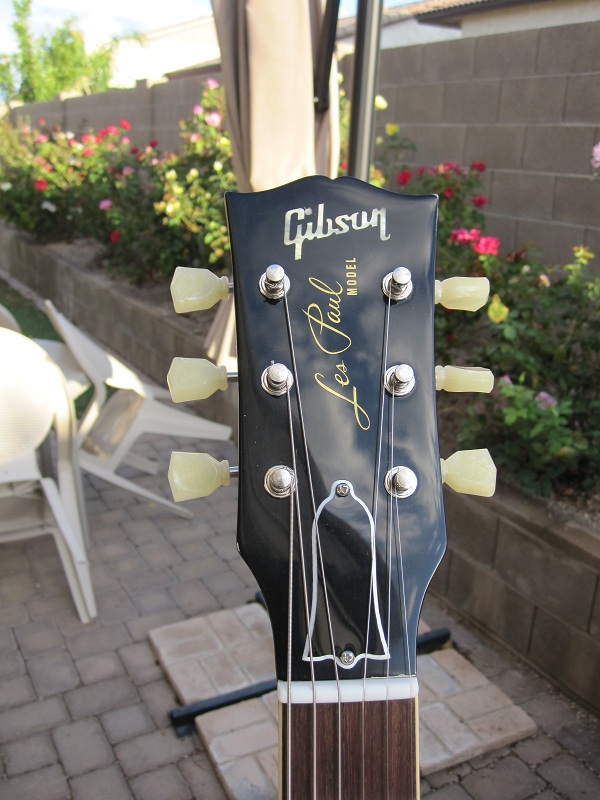 B.Robbins, Marana, AZ. Les Paul with loose MOP 50's Inlay
A Completly Diiferent Approach - LP Custom Split Diamond
Using a custom overlay on a standard headstock size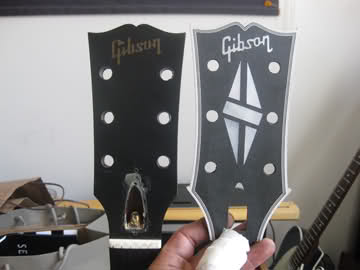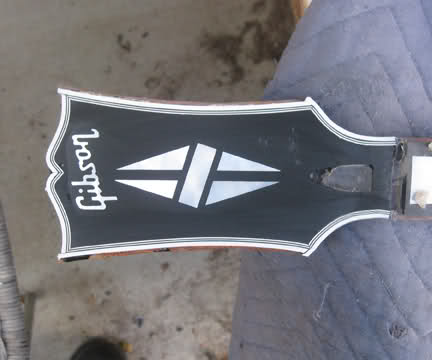 SG Faded to Custom A. Gotch LA, CA
Clich here for further details
Gibson LP Robot conversion to LP Custom. J Gay Singapore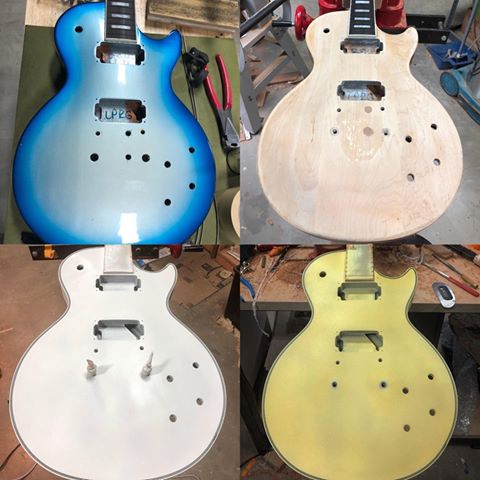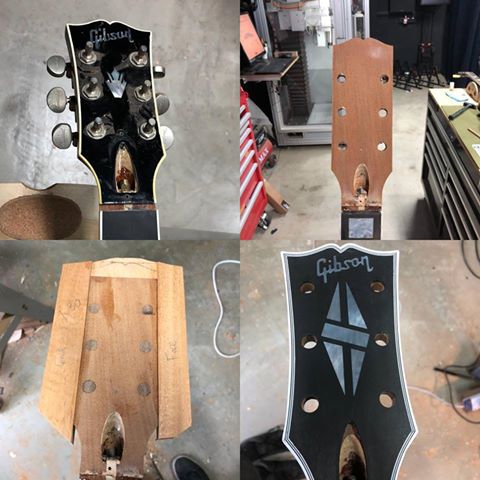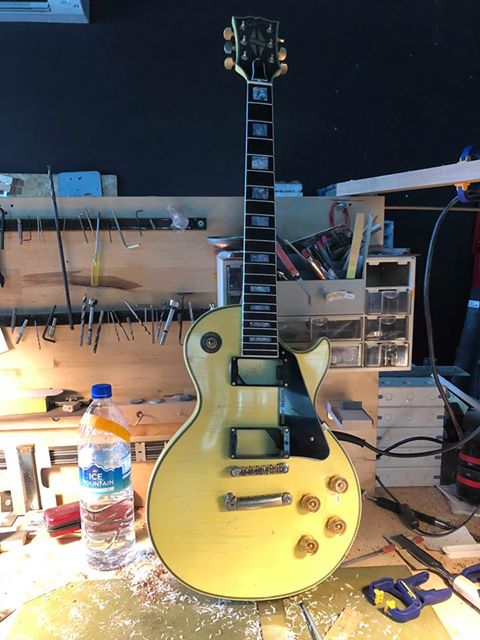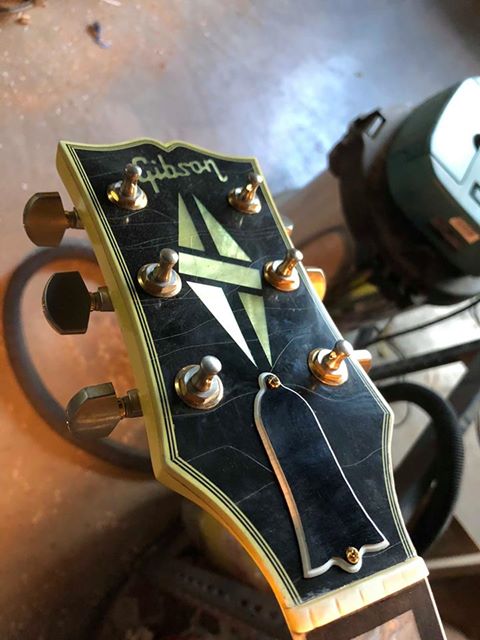 * Gibson® and Les Paul® are registered trademarks of GMI International. Fender®, Strat®, Stratocaster®, Relic®, Tele®, and Telecaster® are registered trademarks of Fender Musical Instruments Corp. Kluson is a registered trademark of W.D. Music Inc . Croxguitars are in no way affilated with these companies in any way. We use the names to show which parts are suitable for use with specific guitars. Parts offered are for restoration or upgrade of OEM guitars only. See our terms & conditions for full disclaimer.