Headstock Overlays and MOP Inlays
Orignal. NOS (new old stock) Gibson ® Headstock overlays...
...factory leftover when they moved to Nashville...
These are for restoration purposes only on original models
Croxguitars do not condone the use of these overlays on any other make of guitar other than Gibson.®
PLEASE EMAIL ME YOU ARE UNSURE OF WHICH OVERLAY IS SUITABLE FOR YOUR PROJECT HOWEVER CHECK DIMMENSIONS BY CLICKING ON THE OVERLAY IMAGE FIRST
60-70's large head with Crown Inlay
LP Custom
LP Std. current size
LP 59 Re. small head
LP with Crown small head
58 V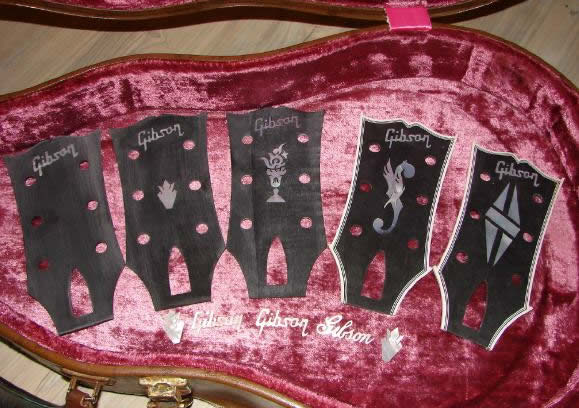 IMPORTANT - READ BEFORE ORDERING.

Please email me if you experience any order or checkout problems.
Payment by Paypal or credit card, choose your option at the checkout. Shipping is a flate rate to all countries, Worldwide Shipping Europe/US/Canada/AUS - £8.00 including combined quantities.

Shipping is by registered post. you will be advised of a tracking number when the item is shipped. Shipping to US/Canada is usually around 7-10 working days .
"I just got the headstock overlays this past Friday. All I can say is WOW! They are a fantastic product and I was kind of wondering if the price was worth it, but yes it is. I will be ordering some more from you in the near future."
Ryan Kliciak Calgary, Alberta, Canada - LP Pegasus overlay, LP Custom Split Diamond overlay & LP 59 Historic overlay
CLICK HERE FOR CURRENCY CONVERTER
Click on Overlay Images to Enlarge and See Full Dimmensions
Current size, suitable for Standards, .Specials, BFG, Menace,Traditional etc.

£49.00

£49.00

LP Reissue Standard Historic No Holes

Identical sized overlay to the above but without pre-drilled tuner holes recommended for Studios and Epi

£49.00


LP Custom Split Diamond Overlay

The most iconic Headstock Overlay

£79.00

Large Head with Crown, (SG'61) some 60/70's SG's and some J-series older acoustics

£49.00

Suitable for all current models that have a crown ES,SG and LP's with a 60's narrow neck.

£49.00

Identical sized overlay to the above but without pre-drilled tuner holes

Limited quantity

£49.00

58V Overlay only

£35.00

£85.00
Click Here for Overlay Fitting Instructions
End 50's correct Vintage Inlay, real MOP 0.5mm thicknes

Stunning detailed mother-of-pearl logo. Wafer thin for easy gluing and lacquer .We recommend that the rear of the logo is sprayed white due to its opacity

(Note: These are very delicate and we recomend that these are for the more skilled restorers)

The most widely recognized late 59 logo is available in limited quanities only.

£22.00

£24.00

50's style (current style) inlay real Mother of pearl

£26.00




Stunning detailed mother-of-pearl logo.

End 50's correct Vintage Inlay, real MOP 1.2mm thickness

The most widely recognized late 59 logo is available in ltd. quanities.

£49.00

Vintage Logo LTD Inlay *NEW*

Early/Mid 50's correct Vintage Inlay, real MOP 1.2mm thickness

One of many details that makes it so special is the fully replicated period correct font. Stunning detailed mother-of-pearl logo.

Available in ltd. quanities

£45.00

Crown Inlay real Mother of Pearl - Buy online only with a logo, otherwise email to order individually

£13.00




Gibson ® Raised Gold Repro 58 'V' Logo

Gibson 58' Raised Logo Gold hard to find! High gloss gold chromed!

£69.00

Gibson ® Raised Chrome Repro 58 'V' Logo

£69.00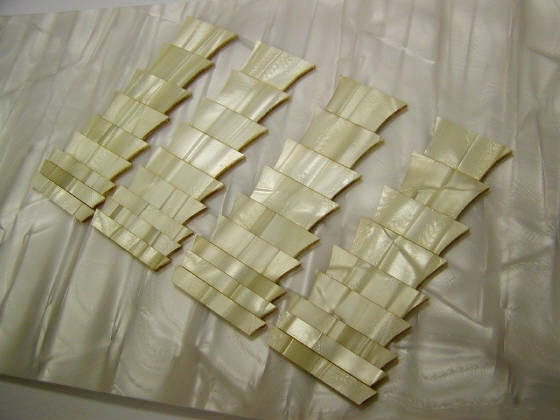 LP Model waterslide decal
also available LP Special, LP Junior; LP TV; LP Model in silver.
state preference in check out note.
Please email for other decals ( See link Below)
Shipping Inclusive
£12.00 Each
CHECK THE LINK BELOW FOR OTHER GIBSON DECALS
THESE ARE MADE FROM 2 MM THICK VULCAN FIBRE WITH MOP INLAYS AND LOGOS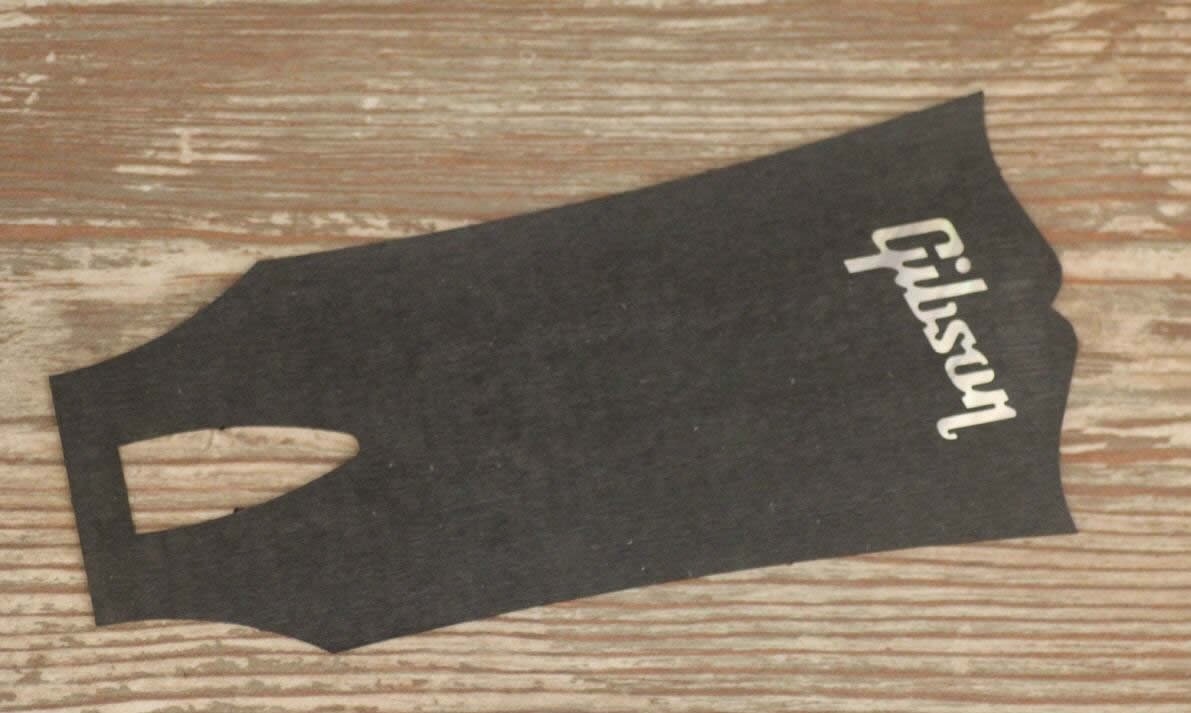 NOW AVILABE WITHOUT TUNER HOLES, LP59 AND SG/ES HISTORIC SIZE ONLY
REMOVING THE OLD OVERLAY
Simply use a steam iron, damp cloth and putty knife as shown below (pictures courtesy of customer BrianB . MA )
| | | |
| --- | --- | --- |
| | | |
Important: If you are not replacing an existing overlay before gluing to headstock check the tuners will locate through, remember you are adding 2.00mm to the thickness of the headstock
Due to age some of these overlays may warp slightly, this is nornal and will glue flat to the headstock face when clamped. DO NOT BEND they may crack. Glue to headstock using Titebond or an impact adhesive, spread evenly and place in position and press down with fingers, remove any excess glue from around tuner holes and place a piece of perspex over the face and back of headstock and clamp evenly around the edges and along the centres line, leave for 24 hours.
A word on clamping. I use Titebond glue and cover the rear of the overlay completely. Cover the whole overlay face with a sheet of Perspex ( so that you can see to make minor positioning adjustments before glue sets)
| | | |
| --- | --- | --- |
| | | Clamp a piece of wood to prevent tearing when drilling through tuner holes. |
Do not clamp directly on to the face of the overlay, it will mark or leave indentations, even worse if you clamp over MOP inlays or logo it could crack them. Clamp evenly all over, especially at corners. Don't worry about glue squeezing out, wipe whilst wet, any dried excess will sand away but you want to make sure there is an even 'seal' of glue all around the edge so that there are no holes between the overlay edge and the headstock.
The overlay may be slightly oversize in places so using a barrel sander on a Dremel or just sand with 240 grit paper on a block around the edges until you have a perfect shape to the original headstock. Smooth the surface of the overlay with 600 grit wet & dry, Do not use too much water as the fibre overlay may absorb, I use nahptha to Wet sand ( don't worry this won't hurt the inlays). When you are happy with the finish start applying nitro clear lacquer slowly building up over 2 or 3 days in the same way you would a neck or body. The overlays appear gray in their natural state, it will turn black as you clear coat.
If you cannot get the desired 'blackness' through clear coating we would recommend this method as acheived by our good friend Jeff Bush: "If the clear lacquer doesn't resolve the grey headstock issue as it did not for me I think this recipe works great and has far less complications than painting the black on."
Sand the headstock to 220 grit and then apply a pure black analine stain to the plate. Since the inlays are Mother of Pearl the dye will not adhere or blemish the logo or crest (this process would also work on decaled headstock prior to applying the decal). Repeat the stain application 2 more times between scuff sanding with the #220. Then clear lacquer application (nitrocellulose) using double coats sanded with #320 in between two double coats. The picture Below shows the headstock after the third sequence of two double coats, wet sanded to #1500 and buffed out on a flannel wheel buffer. The results are infinitely better than what Gibson did in the factory !
FAQ's
May I sand or file the base (1mm) of the overlay ? how ? it's hard ?
You can san the overlay face or back with 320 grit sand paper. However to reduce the total thickness of the headstock to accommodate the tuners sand the face of the headstock with an orbital sander and not the overlay.
Should I sand the top and clean ? with what ?
Sand the top with 320 grit sand paper then 800 grit wet and dry paper or rubbing compound (polish or cream) to get a flat smooth surface. You will not harm the MOP logo. Clean with NAPTHA (zippo lighter fuel) DO NOT OVER WET THE OVERLAY, IT WILL DAMAGE.

Should I glue the overlay before and after adjust the contour with sandpaper ?
YES, Glue the overlay first then sand to contours.

Can I drill the new hole after glueing the overlay or before ?
Assuming your using an overlay with pre drilled tuner holes Drill new holes through the headstock before final glue. Temporarily stick the overlay in place then pilot drill the holes. Obviously this does not apply if you are using a blank (no holes) Overlay in which case you ghlue in place and drill through the existing tuner holes.

When do I drill the hole for the trussrod cover ? after lacquer at the end or before painting ?
Drill out the truss hole cavity before you finally glue the overlay. You can tidy it up when final finishing. Do all work before lacquer. Only lacquer at the very end.
Is ther a problem if there is few woodglue on the overlay, can I clean or sand ?
No, the wood glue will sand off when you sand to contours and generally clean up before finishing.. Make sure you have enough glue around the edges you do not want any tiny gaps between the overlay and headstock.
If you need to fill the existing tuner holes with dowels and sand flat , don't forget to check for headstock thickness before gluing as you will be adding 2mm with the overlay and the tuners may not locate so you would need to sand off 2mm from the bare wood face. Remove existing overlay with a domestic flat irom over a damp cloth and a putty Knife
| | | |
| --- | --- | --- |
| Historic '50/60's logo large size overlay ('61` SG) | | Overlay glued but not yet lacquered |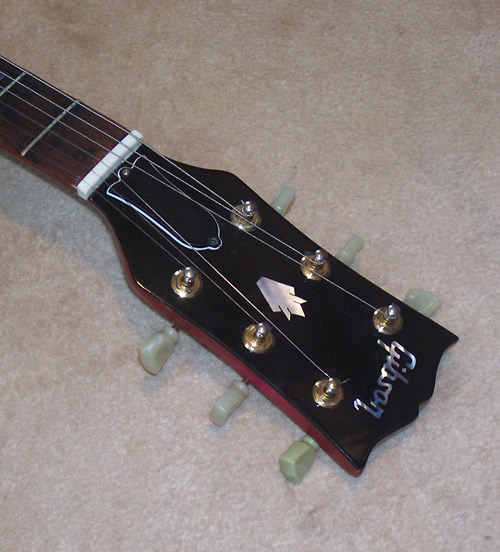 Lacquered and assembled SG Std.
The other type available is the loose MOP inlays, I used these on my ES335 project which has the smaller '59 style headstock and logo as used on '80s onwards and current Les Paul, ES and SG models.
Loose inlays
This is another way to acheive a real

Gibson

finish, it's a bit more time consuming and you need a cetain amount of skill. You have to make your own overlay from wood veneer, route out the rough shapes and glue the inlays with epoxy mixed with ebony wood powder then rub down with wet and dry, mask off the inlays and stain or spray with gloss paint. This can either be done direct in to the headstock or by making your own overlay. (bear in mind the headstock thickness)
Making your own overaly
(pictures courtesy of SG Lou at St.Moritiz Guitars)
Finished headstock.
* Gibson® and Les Paul® are registered trademarks of GMI International. Fender®, Strat®, Stratocaster®, Relic®, Tele®, and Telecaster® are registered trademarks of Fender Musical Instruments Corp. Kluson is a registered trademark of W.D. Music Inc . Croxguitars are in no way affilated with these companies in any way. We use the names to show which parts are suitable for use with specific guitars. Parts offered are for restoration or upgrade of OEM guitars only. See our terms & conditions for full disclaimer.