Headstock Decals
For professional factory finished results. Our decals are used by guitar luthiers worldwide. All decals are for professional restoration, repairs, guitar luthier work & headstock logo replacement etc. Our Decals are very high quality, completely vintage accurate printed with metallic inks on the very best transfer film and carrier paper and then precoated with Nitrocellelulose lacquer - not to be confused with cheaper decals available online,
A few years ago, if you needed a replacement headstock decal, you either bought one from the Original manufacturer or one of the early copy decals available through the internet. These copy decals are obviously cheaper than the originals but came with a few problems. There are now a number of versions available, all of which I've tried, so for your benefit I would like to share my experiences with you.
The first decals available were the 'Patch' type, where you have the logo only. This came as a clear waterslide transfer with the logo printed by an inkjet printer or a computer cut self adhesive vinyl. Once applied you simply sprayed lacquer over the top and 'bury' the logo. The only problem was the early waterslides tended to be quite thick so always showed a protruding edge around the cut out. The vinyl's were even thicker and tended to melt if you used a cellulose based lacquer, which most restorers/finishers do.
The early waterslides were very delicate, and if the ink was not 'fixed' could run when the backing paper was soaked off, they also curled up if left in the water too long and shriveled up if one was too impatient with the lacquer. As they were 'patches' if you had more than one decal to apply then obviously they came separately and so presented positioning and lining up problems.
Waterslides
The current waterslide patch decals are much better. The transfer is much thinner and pre-coated with a thin layer of nitro cellulose lacquer. This fixes the ink and makes them easier to handle, less likely to curl up in water and being less delicate, are easier to position once on the head stock. I would recommend this form of decal and not the vinyl type for your headstock, but ok on your amp or case, anywhere that you are not going to lacquer, although they do take varnish.

This is the only type of waterslide decal that we now use.
Read fitting instructions supplied with decals before applying

VINTAGE REPRODUCTION HEADSTOCK WATERLSIDE DECALS

Each headstock decal has been carefully recreated based on actual vintage models from the 1950's through the 1970's and replacements for modern models, using real metallic Silver or Gold ink. Our waterslide decals are the perfect replacement for any repair or restoration project.

These decals are not cheap inkjet or laser printer decals. They are extremely accurate, high quality vintage reproduction waterslide decals, Luthier quality for professional restoration projects

Our decals are not from the original manufacturers, but in most cases they are more vintage accurate than the replacement decals currently available elsewhere. Please note we have no association with Fender, FMIC or Gibson.
Real metallic gold/silver inks

All Decals come pre coated with Nitro Cellulose Lacquer

Use Nitro or Acrylic lacquer to Clear Coat

Free 'Contour Body' Included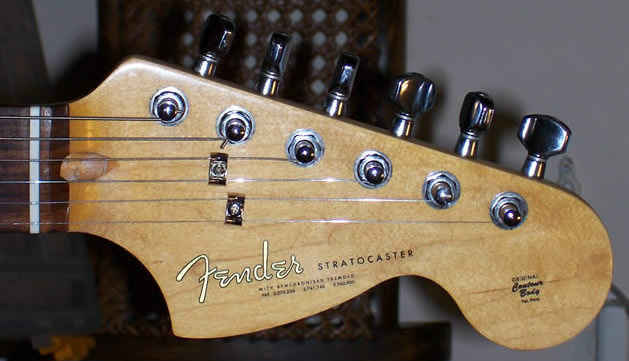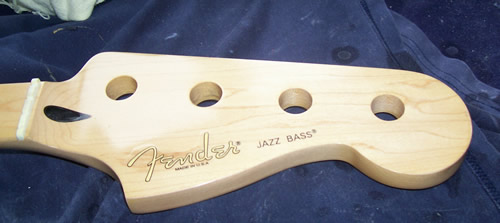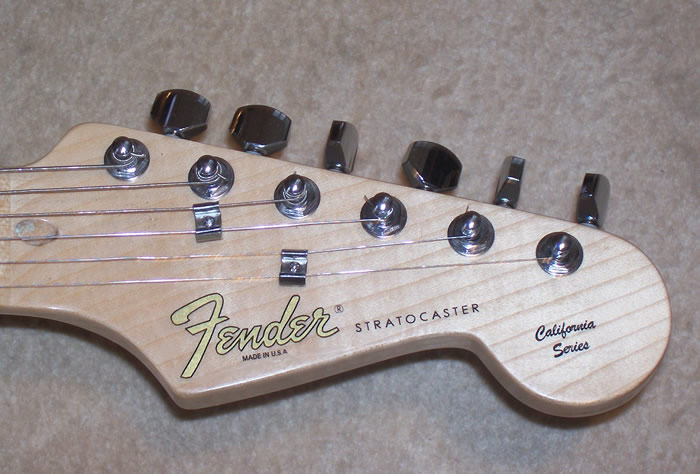 Thanks to my many customers for their kind words, Just a selection:
Best waterslides I have ever worked with.. Thanks for getting them to me so quick!!
Ron CA USA
today I received the decals ... they are superior quality ... and thanks for the turbo-fast delivery! If I need more logos or decals, I will definetely order them from you!
Greetz from Germany
Olaf
I got the decal yesterday and slapped it on last night. Thanks for such a great decal. The instructions really helped too. I've needed this decal for 35 years for my 1954 Jr. and it looks very nice on there. Now to build up some lacquer and put it back together.
Thanks again,
Bill , MO. USA
Received your package yesterday 10/25 [unexpectedly fast turnaround] and neither of our postal services managed to bugger-up the goods in transit which I guess means there is a god after all and he does perform the occasional minor miracle.The decal/transfer looks great – very nicely done! Couldn't have asked for or expected a better job. Should I embark on another one of these projects in the future I'll definitely keep your services in mind.
Thanks again and best regards,
Tom USA
Just got the decal and applied it to the headstock, looks great. Good price, fast shipping, I'm very pleased with the transaction. Thank you,
Bruno, Luxembourg.
recieved decal today, (very fast), GREAT JOB.
Many thanks Billy T&W UK
Just a note to say thank you for the excellent service. The decal arrived promptly, well packaged and with great instructions for applying / getting a great finish. Looking forward to restoring my guitar to its former glory.
Ric. Warwick UK
Hi there again Crox,
I just ordered another 1961/62 strat decal. The last one turned out perfect when I followed your very clear instructions. I finished of like you suggested with sanding an lacquering many many times. I achieved a dead flat
sealed decal......PERFECT!!!
Michael , NSW Australia
Outstanding logos and service! Allready arrived! Thanks a lot, will definitely order again!
Thanks
Stefan, Austria
I received my Gibson repair decal right away and it is of high quality, as always. Very correct for the vintage once some toning lacquer goes over the top. Thanks for the great service.
George FL. USA
Received the decal today - many thanks! Very friendly and efficient service. I will be recommending you to all of my friends & family.
Regards,
Lew, Wigan UK
* Gibson® and Les Paul® are registered trademarks of GMI International. Fender®, Strat®, Stratocaster®, Relic®, Tele®, and Telecaster® are registered trademarks of Fender Musical Instruments Corp. Kluson is a registered trademark of W.D. Music Inc . Croxguitars are in no way affilated with these companies in any way. We use the names to show which parts are suitable for use with specific guitars. Parts offered are for restoration or upgrade of OEM guitars only. See our terms & conditions for full disclaimer.