Cellulose Nitrate Inlays
Some History and Further Information on Marker Inlays
The material for trapezoid inlays currently used by Gibson on Standards and Historic Reissues LP's is a synthetic acrylic plastic. The original material used by Gibson in the '50s was cellulose nitrate which was Manufactured by Mazzucchelli in Italy.
Cellulose Nitrate was used extensivly in the 50's and 60's particularly for accordian, Pick guards and plectrum manufacture and insturment adornment througout Europe and is still used today for Fountain Pen tubes and cases. Unfortunately it is highly flammable when stored in large enough quantities for a production line like Gibson's so they decided some years ago to switch to Acrylic after new laws were introduced in the US.
The current Historic LP inlays look nothing like the ones on vintage LP's. A few years ago Dave Johnson obtained some of the original cellulose nitrate material, and the inlays on your Historic LP or LP type Guitar can now be easily replaced.
Shapes
The following information is attribued to Tom Bartlett of www.bartlettguitars.com
Gibson in the fifties made some changes to their inlays.. the pattern was changed in 1957, but the shape was also slightly different throughout the years. Again, its difficult to say for certain what is correct and what is not, as the inlay work was always very sloppy and gappy. but apparently the shape changed around 1954 to 1955. Its very slight, and the change is only in the end radius.
Basically there are two versions now available Historic (modern) and Vintage.There is no difference in outline shape though Vintage inlays are about the same thickness all over, about .047, and were probably .050 before installed and scraped level to the radius.
If you have an LP Standard, Historic re-issue or Modern LP style choose the Historic size.
The Vintage size is for older Les Pauls (VOS) and 60' SG's
Epi Inlay Replacement Walkthrough
CLICK HERE FOR CURRENCY CONVERTER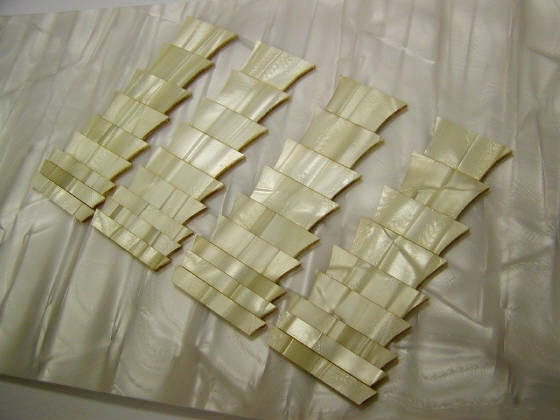 Dave Johnson Real 50's Cellulose Nitrate Inlays
Real Cellulose Nitrate inlays with a pattertn that is dead on to the patterns seen in most Les Pauls from the 1950's. This material will have the same distinctive pattern as seen on most Les Paul's from 1957 thru 1960. The thickness is 0.070" with the pattern running thru the material to allow for sanding. Working with the original manufacture that supplied this material back in the 1950's. We were able to confirm the pattern style they used in the 1950's and specify the color and thickness we needed. We will be offering 2 different shapes of inlays. One shape for current Historic Les Paul trapezoids and the other a vintage trapezoid shape for older Les Paul's & SG model guitars.

50's Style Inlays
£120.00 NOW £69.00
VINTAGE OR HISTORIC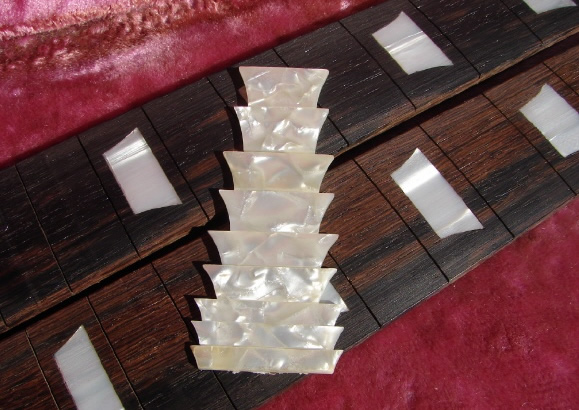 Real 60's Cellulose Nitrate Inlays
(different pattern to the 50's)
Real 60's Cellulose Nitrate Inlays featuring the typical patterns as seen in vintage Les Pauls from the end 50's early 60's, this is real old org, Cellulose Nitrate is from Italy where most of the real old Celluloid came from. Limited to around 30 sets. The thickness is 0.080" with the pattern running thru the material to allow for sanding.
Color is very nice and creamy, this material is nice for restoration or update to your Gibson Historic Les Paul or 60 's SG! or give your Epiphone LP a treat!
60's Style Inlays
Now only £69.00
VINTAGE OR HISTORIC CUT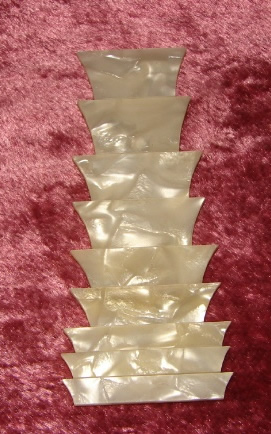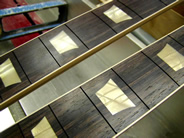 * Gibson® and Les Paul® are registered trademarks of GMI International. Fender®, Strat®, Stratocaster®, Relic®, Tele®, and Telecaster® are registered trademarks of Fender Musical Instruments Corp. Kluson is a registered trademark of W.D. Music Inc . Croxguitars are in no way affilated with these companies in any way. We use the names to show which parts are suitable for use with specific guitars. Parts offered are for restoration or upgrade of OEM guitars only. See our terms & conditions for full disclaimer.